The Alexander Farm and Inn
by Anne Chesky Smith
Soon after the first settler in the Swannanoa Valley, Samuel Davidson, was killed by Cherokees in the early 1780s, Davidson's brother-in-law, John Alexander, followed the rough path up the mountain with several friends and relatives to form the Swannanoa Settlement on the mouth of Bee Tree Creek. John's wife, Rachel Davidson, bore him four children—Ann, Thomas, Mary, and James H. Alexander—who all traveled with their parents to settle this unknown territory.
James H. Alexander (b. 1756, d. 1844) married Rhoda Cunningham (b. 1763, d. 1848) in 1782 and they raised nine children at their home on Bee Tree Creek. One of their children—George Couples Alexander (b. 1790, d. 1880)—decided in 1818 to build an inn on the stage coach road that was bringing travelers through the settlement. Keeping up his land had to occur during daylight hours, so George spent his nights building the inn—the dark lighted only by burning pine knots collected by his wife and children. He soon finished constructing the 2-story log house and the family opened the Alexander Inn to visitors by 1820.
Within a decade the family added a store, and, to this day, the Alexander family has preserved ledgers from as far back as 1830 that account for the items sold— a cake of soap, a twist of tobacco, and 6 yards of calico are listed among many other things.
George C. Alexander transferred ownership of the inn to his son, George N. Alexander (b. 1833) in 1869 and it was around this time that the inn doubled in size as the number of travelers to the Swannanoa Valley increased after the Civil War.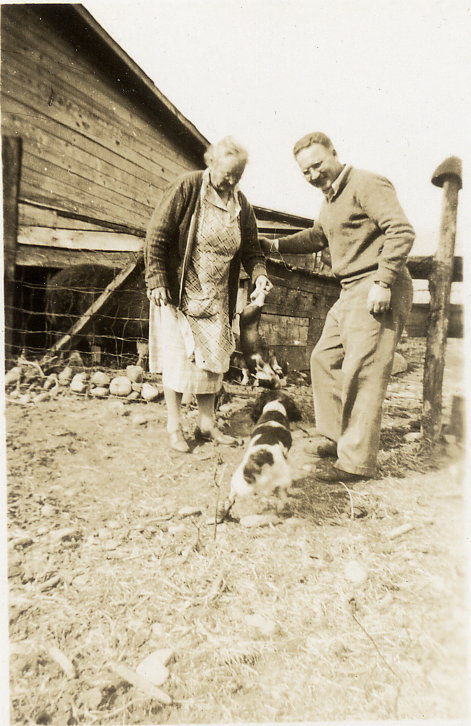 George N.'s nephew, Rufus Davidson Alexander—one son of Albertus Newton Alexander (b. 1835) and Mary Adaline Davidson—ran the inn with his wife Carrie Cornelius Davidson until his death in 1918, at which time Carrie took over care of the establishment.
Though short in stature, Carrie Davidson Alexander was a shrewd businesswoman determined to send her children to college. When a man named E.W. Grove came to Swannanoa looking for a tract of land on which to build America's first planned community, Carrie haggled with him for months until she got the price she wanted for 275 acres of Alexander property that would become Grovemont-on-Swannanoa.
Most popular during the summer months when southern tourists would flock to the mountains to escape the heat, the inn often housed guests for months at a time. One such guest was Phyllis Dorchestor (b. 1911, d. 2002) from Tampa, Florida. Phyllis had spent the previous summer in Swannanoa at the nearby Alexander Farm, which was operated as a guest house by Charles H. Alexander, Rufus Davidson Alexander's brother. The next summer, however, Phyllis was sent to Alexander Inn by her father. During her time in the mountains she met (and would eventually marry) Rufus and Carrie's son, Oliver Mims "Spec" Alexander (b. 1908, d. 1973). Spec—called so either because he wore glasses from an early age or because he was covered in freckles—and Phyllis had two children, William C. "Bill" and Sally.
The inn continued to host guests without interruption until 1949, when Carrie passed away. The inn then passed to Elizabeth Alexander Deal, Carrie's only daughter, who lived there until her death in 1982. Elizabeth passed the inn on to her daughter, Mary Deal Garner, who— upon her death in 2012—passed the inn to her granddaughter, Carrie Garner Poteat.
The original inn, listed on the National Register of Historic Places, still stands on Old US 70 as the oldest continuously lived in structure by the same family in Buncombe County. And, still sitting in the front yard, is the old dismounting stone used by visitors arriving at the inn via stagecoach.