Who We Are
The Swannanoa Valley Tree Alliance is an alliance between Asheville GreenWorks, Swannanoa Valley Museum & History Center, Black Mountain Urban Forestry Council, and other stakeholders of our community forest canopy. We believe that the trees of the Swannanoa Valley might be one of the most important characteristics that defines local beauty and small town charm. Our trees – along municipal streets, in parks and natural areas, and in the front and back yards of homes – are our Community Forest. Trees are the lifelines of our valley, beautifying the view corridor that we share, providing shade and privacy, creating the oxygen we breath and keeping our air cool and clean.  Our trees protect soils from erosion and provide habitat and food for birds, pollinators, and other wildlife. Join us on April 16 @ 10:00 am for our Treasured Tree Walk Celebrating Earth Day. Click here to register. 

Swannanoa Valley Treasured Tree Map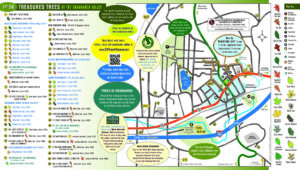 Click here to download the Swannanoa Valley Treasured Tree Map.
---
Protecting the Swannanoa Valley Community Forest
We facilitate nominations of the Treasured Trees of the Valley through the Asheville GreenWorks Treasured Tree Program.
We bring public awareness of the trees in the Swannanoa Valley as valuable and irreplaceable and encourage stewardship of our community forest.
We speak up for the trees when local governments are making decisions that impact our community forest.
We inspire people to improve the world around them by planting native trees and replacing trees lost to development or disease.
---
Purpose of the Program
Bring public awareness to these valuable and irreplaceable trees
Encourage stewardship of our community forest by increasing property owners' awareness of their role in maintaining the forest canopy
Protect all trees from indiscriminate removal or irreparable damage during development
Raise awareness of the diversity, sensitivity and importance of the tree canopy
---
How You Can Help 
Share with friends and others in the community about the Treasured Tree Program
Keep eyes open for big, beautiful trees and encourage their owners to nominate them. 
Solicit donations to help pay for Treasured Tree plaques
Help to process treasured tree nominations and present plaques and certificates
Research the history of nominated trees
Write press releases to recognize new Treasured Trees
Help to create a database with pictures, historical information, and locations of each treasured tree
Are you an arborist? Or do you know one? Arborists are needed to assess the ecological importance, health, estimated age, and DBH of nominated trees
Nominate and Donate! (See below for more information.)
---
Nominate a Tree
Criteria for Treasured Trees Nomination
Tree(s) may be nominated as SPECIMEN, HISTORIC or LANDMARK

SPECIMEN—

Size: Nominated trees should be of distinctive size, beauty or age.
Form or Rarity: Tree is outstanding specimen or form for its species. Tree is of a species that is unusual for the area or is unique.

HISTORIC— Tree has association with or contribution to historic structure, district, noted person or historical event; documentation must be provided as to the association of the historic landmark, event ,or person.
LANDMARK— Tree is considered landmark to a neighborhood or special site location
Tree(s) must be structurally sound, true to genetic form, not topped or badly pruned and must have full potential to reach mature size and form
Tree(s) must be visible from publicly accessible locations
Treasured Trees may be located on either public or private property within the Swannanoa Valley. Trees on private property must be nominated with the consent of the property owner.
Awards Selection
Viewing and measuring the tree will occur after a nomination is made and permission is given by the owner. This is a voluntary program and everyone is encouraged to get involved.
Awards
Owner receives recognition with certificate
Each tree receives a plaque to identify the species and approximate age
Tree measurements and expert consultation by a certified arborist is available to owners
Mail printed form to:
Swannanoa Valley Museum
PO Box 306
Black Mountain, NC 28711
---
Make a Donation
You can make a donation to the Treasured Tree program online with credit card using the button below or you can mail a check to:

Asheville GreenWorks
2 Sulphur Springs Road
Asheville, NC 28806

When donating, please make a note that the donation is for the Swannanoa Valley Treasured Tree program. Plaques are paid for through our main contributor the Swannanoa Valley Museum and through other private donations. If you would like to sponsor a tree that you have nominated, you can have your logo on the tree's plaque for $25. Each metal plaque is either place on a stake in front of the tree or fixed to the tree with long screws that back out as the tree grows.