Orientation: Valley History Explorer Hiking Series
March 3 @ 6:00 pm
Free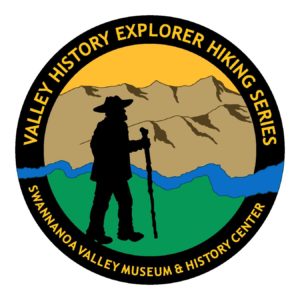 Join us for an orientation to the Museum's VALLEY HISTORY EXPLORER HIKING SERIES, which consists of 8 hikes to historic locations around the Swannanoa Valley, one in each of our communities. The hour-long orientation will cover specifics of each hike. The orientation will take place at the Swannanoa Valley Museum at 223 West State Street, Black Mountain, NC 28711. 
This series was developed to introduce the significant history of the region to visitors and residents of the Swannanoa Valley through moderate, approximately 3-mile hikes to historic locations. More information…
Hikes generally occur on the 2nd Saturday of each month (March – October) at 9:00am and meet at the Museum. Each hiker will receive a punch card that serves as a log and validation of the completion of each hike. Finishers receive a Patagonia fleece with series logo.
NOTE ON REGISTRATION: At 8:00am on January 3, 2022, online registration for the 2022 Valley History Explorer Series will open. Registration will take place on this page. You must be a member of the museum to register. Once these spaces are filled we will not take any more full-series registrations until January 2023. 
New, Full-Series Hikers – On January 3, 2022. 
Hikers who started the series in prior years and need to make-up individual hike(s) will be registered by the museums Hike Committee in 2022 to register for the hikes needed to complete the series. 
Please e-mail svmhikes@gmail.com with any inquiries.