Registration: Valley History Explorer Hiking Series
January 2, 2020 @ 10:30 am

-

March 14, 2020 @ 9:00 am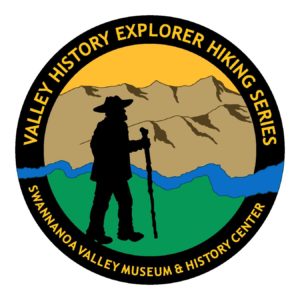 NEW, FULL SERIES HIKERS: On January 2, 2020, online (credit card) registration for the 2020 Valley History Explorer Series will open up for 25 new hikers at 10:30am on Eventbrite. You must be a member of the Museum to register. Once these spaces are filled we will not take any more full-series registrations until January 2, 2021. If you would prefer to pay by check/cash please contact the Museum ASAP.
COST: $210; You must be a Museum members to register. To become a member, click here.
ABOUT THE SERIES:
The Museum's VALLEY HISTORY EXPLORER HIKING SERIES consists of 8 hikes to historic locations around the Swannanoa Valley, one in each of our communities. This series has been developed to introduce the significant history of the region to visitors and residents of the Swannanoa Valley through moderate, approximately 3-mile hikes to historic locations. Hikes will generally occur on the 2nd Saturday of each month (March – October) at 9:00am and meet at the Museum. Each hiker will receive a punch card that serves as a log and validation of the completion of each hike. Finishers receive a Patagonia fleece with embroidered series logo. More information…
NOTE ON 2019 INDIVIDUAL HIKE REGISTRATION:
Hikers who started the series in prior years and need to make-up individual hike(s) may register for individual 2020 hikes beginning on December 1, 2019, by emailing or calling the Museum.
New hikers who wish to register for individual hikes may add their name to the waitlist on the first of the month in which the hike they are interested in occurs. Additional spaces for individual hikers on the waitlist may open up if a full series hiker cancels their registration.