Winter Workshop: Crafting Stories from Nature
February 26 @ 1:00 pm

-

4:00 pm
We are all a part of the natural world and our lives are profoundly affected by nature.  The natural world provides a common meeting place as well as a source of inspiration for storytellers. Elliott will demonstrate how one can craft stories celebrating our human connection to nature by incorporating personal experience, family reminiscences, folklore, natural history, traditional mythology and humor. He will also give hints as to how one can incorporate dialogue and dialect into a story and help participants develop their own stories. Participants will be provided with pens and notepads for note-taking.
Cost: $35 for museum members, $45 for non-members. Some fees apply. Maximum of 20 people for the workshop.
Location: Meeting Room of the Guest House, Christmount Christian Assembly, Black Mountain, NC (registrants will receive driving and parking directions ahead of time).
Covid Protocol: This event is capped at 20 participants and will take place on a covered outdoor patio at the assembly, temperature permitting. Participants are required to wear masks covering the nose and mouth and to distance during the event. Anyone experiencing symptoms of covid-19 or experiencing a possible risk of exposure is asked to stay safe and stay at home!
Cancelations: If the event is canceled due to inclement weather, attendees will be notified of a replacement date. In the event of a full cancelation, attendees will receive a refund.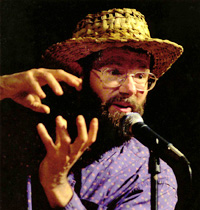 About the Instructor: Doug Elliott is a naturalist, herbalist, storyteller, basket maker, back-country guide, philosopher, and harmonica wizard. For many years made his living as a traveling herbalist, gathering and selling herbs, teas, and remedies. He has spent a great deal of time with traditional country folk and indigenous people, learning their stories, folklore and traditional ways of relating to the natural world. In recent years he has performed and presented programs at festivals, museums, botanical gardens, nature centers and schools from Canada to the Caribbean. He has been a featured storyteller at the National Storytelling Festival. He has lectured and performed at the American Museum of Natural History in New York, the Royal Ontario Museum in Toronto and conducted workshops for the Smithsonian Institution. He has led ranger training sessions for the National Park Service and guided people on wilderness experiences from down-east Maine to the Florida Everglades. He is the author of five books, many articles in regional and national magazines, has recorded a number of award winning albums of stories and songs, and is occasionally seen on PBS-TV, and the History and National Geographic Channels. Learn more about Doug here.