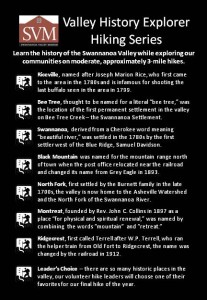 The Museum's VALLEY HISTORY EXPLORER HIKING SERIES consists of 8 hikes to historic locations around the Swannanoa Valley, one in each of our communities. This series has been developed to introduce the significant history of the region to visitors and residents of the Swannanoa Valley through moderate, approximately 3-mile hikes to historic locations. Each hiker will receive a punch card that serves as a log and validation of the completion of each hike.
Hikes will occur each month (March – October) at 9:00am and meet at the Museum. Each hike costs $25 for members of the Museum and $35 for nonmembers. The entire series can be purchased for $175 for members. Nonmembers may sign up for the series and a membership for $205 or only the series for $250.
Each hike will take place in one of the following Swannanoa Valley communities:
Riceville, named after Joseph Marion Rice, who first came to the area in the 1780s and is infamous for shooting the last buffalo seen in the area in 1799.
 Montreat, founded by Rev. John C. Collins in 1897 as a  place "for physical and spiritual renewal," was named by combining  the words "mountain" and "retreat."
Swannanoa, derived from a Cherokee word meaning "beautiful river," was settled in the 1780s by the first settler west of the Blue Ridge, Samuel Davidson.
Black Mountain was named for the mountain range north of town when the post office relocated near the railroad and changed its name from Grey Eagle in 1893.
Bee Tree, thought to be named for a literal "bee tree," was the location of the first permanent settlement in the valley on Bee Tree Creek – the Swannanoa Settlement.
Ridgecrest, first called Terrell after W.P. Terrell, who ran the helper train from Old Fort to Ridgecrest, the name was changed by the railroad in 1912.
North Fork, first settled by the Burnett family in the late 1700s, the valley is now home to the Asheville Watershed and the North Fork of the Swannanoa River.
Leader's Choice, There are so many historic places in our valley, our volunteer hike leaders will choose one of their favorites for our final hike of the series.
Email info@swannanoavalleymuseum.org, call (828)669-9566, or pay through our secure website to register.
Thank you for hiking with us!