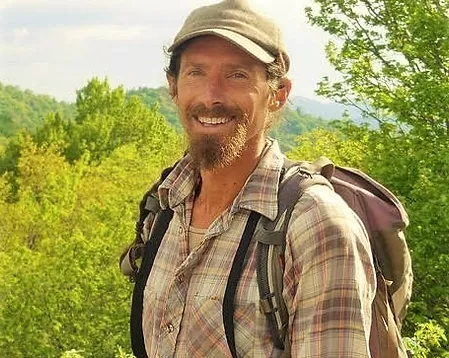 Whether you are new to this area or have lived here all your life, you may want to know more about the fauna and flora of our beautiful Swannanoa Valley and surrounding mountain lands. Too often we head off walking or hiking at a quick pace with a destination in mind, but this unique outing is more of a "ramble" through nature with an experienced guide – Luke Cannon.
An ethnobotanist and naturalist, Luke is a longtime pursuer and teacher of our living natural world and has a great understanding of the ecological intricacies in Appalachia. Spending time with Luke in the pastures and woodlands we will pass through will profoundly change your appreciation of how plants and fungi are shaped by their ecosystems while learning more about the birds, insects, reptiles, and animals we encounter.
This excursion along the beautiful Swannanoa Creek near Old Fort will be approximately four hours in length over gently sloped terrain, though with rocks and stream crossings to negotiate. Be prepared to be seated in the woods at times for demos and discussions. To facilitate interaction and a good experience for all the group will be limited to 20 or less.
We will meet at 9 AM at a spot near the trailhead and specific directions will be provided for those registered.
Time: 9:00am to approximately 1:00pm
Pricing: $50 for museum members, $65 for general admission. Some fees apply.
Meeting Location: Parking lot of Piney Grove Church near the terminus of Old US 70 West in Old Fort, NC 28762. More details will be provided to registrants.
Bring: Bring water, snacks, sturdy shoes or boots (there will be stream crossings) and hiking poles are recommended. You may also want something to sit on in the woods if the ground is damp. If you have a magnifying loupe you may want to bring it as well.
Coronavirus Protocol:
Please bring a mask to the event to use in the event of carpooling.
No one who is sick, running a fever or potentially exposed to COVID should attend
Social distancing while on the trails is recommended.
THIS EVENT IS SOLD OUT