Our hiker has almost made his way back home! We just need $500 more to double our Summer Appeals fundraising goal! Donate to our "Go the Extra Mile" Summer Appeals Campaign here:
Hello friends of the Swannanoa Valley Museum! With spring here and summer right around the corner, we look forward to welcoming you to our exhibits and activities. We especially welcome the return of your energy and enthusiasm that you bring to the museum!
The year 2020 was a tough one. It kept us inside and worried for all our families and for our communities. It heavily impacted businesses and nonprofits. The Swannanoa Valley Museum is no exception, and even into 2021, we are being negatively affected by the pandemic and its resulting restrictions. With limited visitation and the cancellation of public events that normally provide vital support for the museum, we have already experienced a significant drop in revenue. Even as we resume activities, our income will be limited by the fact that we are honoring all the reservations for 2020 hikes that were not held due to the pandemic.
So, we are asking you to be as generous as possible and "Go The Extra Mile" with your gift to the museum. You will help ensure that museum operations, exhibit, educational programs and outdoor activities continue at the level of excellence the community has come to expect of the Swannanoa Valley Museum.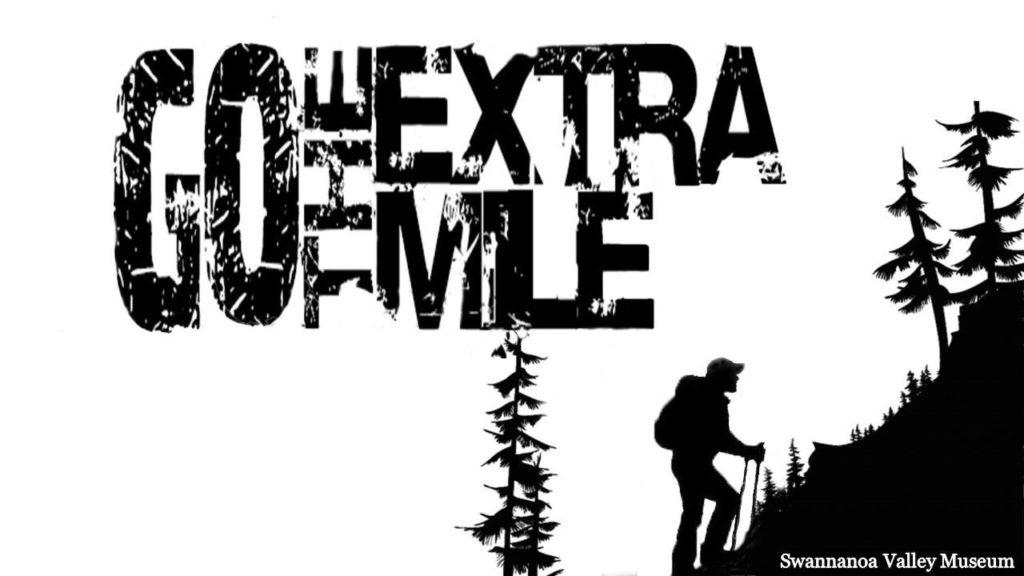 We have a goal to raise $6,000 for the "Go The Extra Mile" campaign. To track our progress, the museum website will follow a hiker up each of the Seven Sisters Peaks. With every $50.00 gift our hiker will travel 200 steps of the 8.5 miles to hike all Seven Sister Peaks. When we reach or surpass $6,000, our hiker will have climbed all seven peaks! One of our regular donors has pledged $1,000 $1 to $2 matching challenge, giving the hiker a good head start.
Despite pandemic limitations, museum staff and volunteers have continued to use available resources well:
Developed and maintained virtual programming such as the SVM Book Club, History Cafés, and the Appalachian Experience Series.
Installed a lift to make our exhibits fully accessible
Opened our new "Our Pathways" exhibit
Created a butterfly garden
In the works are a 100-year celebration of the Swannanoa Valley Museum's home, The Original Black Mountain Fire House and the creation of a living memory of 2020 through oral history interviews with Swannanoa Valley residents.
Your gift supports both present excellence and future innovations, and will enable the museum to remain a cornerstone of our communities. Thank You!
Sincerely,
K. LeAnne Johnson Sam Shirey
SVM Executive Director SVM Board Chairman
P.S. Every donor of $100 or more will receive a "Go The Extra Mile" T-shirt!
Donate to our "Go the Extra Mile" Summer Appeals Campaign here: