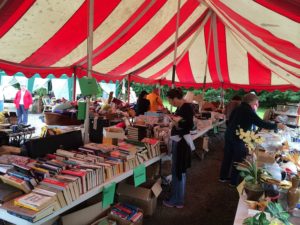 Support the museum by visiting our Rummage Sale! This year's sale will take place in the same location as previous years – under a large tent at the corner of Padgettown Road and Old US 70 in Black Mountain and will be open:
Friday, August 5, 11am to 4pm
Saturday, August 6, from 8:00am until noon. 
You can also donate to the Museum's fiscal year end Rummage Sale today! To donate items please contact Yolanda Smith at (828) 669-1679 or chicgrandma96@yahoo.com. Please do not bring donations to the museum. Gently-used household goods, kitchen items, collectibles, books, children's toys, and furniture are appreciated. The museum is unable to accept donations of clothing or electronics. Donors will receive a tax receipt. We can arrange pick up for bulky items.