Swannanoa Valley Rim Hike #9: Buckner's Knob
September 19 @ 8:00 am

-

2:30 pm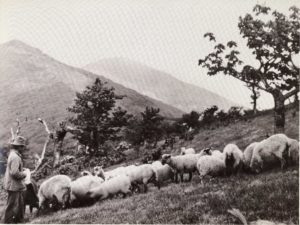 Buckner's Knob was the original name given to today's Craggy Pinnacle, named after the Buckner family, one of the early families to settle on the Barnardsville side of the Craggies. The Flats of Craggy were the spot where the boys from North Fork side of the Craggies and those from the Barnardsville side would meet for baseball games and campouts. The flats were much more open then due to the grazing of cattle and sheep for many years. This 3.0-mile, moderate hike will begin with history and views from the top of Craggy Pinnacle and then a hike to Craggy Flats and back from the Craggy picnic area at Bearpen Gap.
Difficulty:  Moderate, 3.0 miles
UPDATE: In order to follow state regulations concerning the coronavirus, the Swannanoa Valley Museum has created new guidelines for its 2020 hikes. These guidelines and the 2020 hike schedule, will continue to evolve as the COVID situation changes.  Please email svmhikes@gmail.com with any questions. 
New hike guidelines:
Sign-ins will be conducted outdoors, at the parking lot of the Black Mountain Savings Bank.
There will be no carpooling, no pickup truck / driver shuttles, and a new limited hike size.  All the series hikes have been redesigned to be either be out/back or loop hikes and the museum discourages any carpooling to the trailheads, unless with family members or trusted friends.
No one exhibiting symptoms will be allowed on the hikes.
Hikes are limited to 25 hikers (20 hikers plus leaders).
SVM will not shuttle drivers in cars or pickup trucks as in the past.
Hikers will be required to bring a mask. Masks should be worn at the sign-in / registration table and at any time hikers are in a close group, such as at trailheads, history talks, or rest breaks.
Social distancing requested on the trails.
Series hikers have the opportunity to make up these hikes at any time in the future. If hikers do not feel comfortable taking part in hikes in 2020, this is more than understandable.
Note: This hike is part of a series, which will go on sale January 2, 2020. Hikers who wish to register for individual hikes may add their name to the waitlist by sending an email to svmhikes@gmail.com. Additional spaces for individual hikers on the waitlist may open up if a full series hiker cancels their registration.