History Cafe Webinar: 1566- Juan Pardo & the Native Town of Joara
April 27 @ 10:30 am

-

11:30 am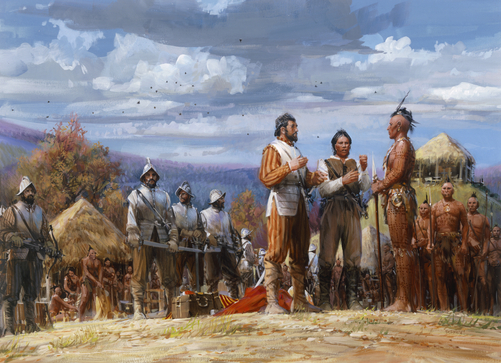 In this hour-long webinar, Warren Wilson professor David Moore will discuss the historic encounter between Native peoples and Spanish Conquistadors at the town of Joara, near what is present-day Morganton in Burke County. Dr. Moore discovered the historic town site of Joara and has led research and excavations there for nearly three decades, uncovering the story of a critically influential early colonial conflict. Joara was occupied from about A.D. 1400-1600. During the mid-16th century, Joara is thought to have been among the largest Native American towns in North America. Captain Juan Pardo established the garrison of Fort San Juan in Joara in December 1566. During the spring of 1568, relations between the Spaniards and the Native peoples of Joara ended violently, with nearly all the soldiers killed and the fort being burned and destroyed. Dr. Moore will discuss how excavations at the archeological site have helped to reveal why Fort San Juan was destroyed by the Joarans and what daily life looked like during the Spaniards' short occupation. 
Dr. Moore's presentation is a sneak peak of the Swannanoa Valley Museum's 2020 main exhibit: Unearthing Our Forgotten Past: Fort San Juan.
About the Webinar: This webinar will take place via Zoom conference. Registrants will receive instructions on how to use Zoom several days ahead of the webinar. Use of Zoom is free and does not require an account for participation.
Cost: $2.50 for museum members and students with ID. Nonmembers may pay $5. Attendees must register in advance to attend. 
David Moore is a professor of Anthropology at Warren Wilson College. His research interests are in 16th-century Contact period archaeology in the Southeast, archaeology of the southern Appalachians, and Native American ceramic studies. 
About History Cafe
Ever wonder how Asheville came to get its drinking water from Black Mountain? What slavery looked like in western North Carolina (Yes, there were enslaved people here.)? How wagons, stagecoaches, and trains made it up the steep grade from Old Fort into Ridgecrest? Come to the Swannanoa Valley Museum & History Center one monday a month at 10:30am for a discussion about local history. Come start off your morning getting to know our region a little better!
Designed for adults and modeled after the popular Science Cafes taking place across the nation, Swannanoa Valley Museum & History Center's monthly History Cafe offers lectures and workshops led by local experts and researchers on regional history topics. These meet-ups engage the many stories that have shaped our southern Appalachian community as a place — from geological changes to native histories, musical innovations, pioneer experiences, and labor struggles — and will end with informal discussion bringing our shared history into context with contemporary issues.