Historic Haunted House Tours – Downtown Black Mountain
October 25, 2019 @ 5:30 pm

-

9:30 pm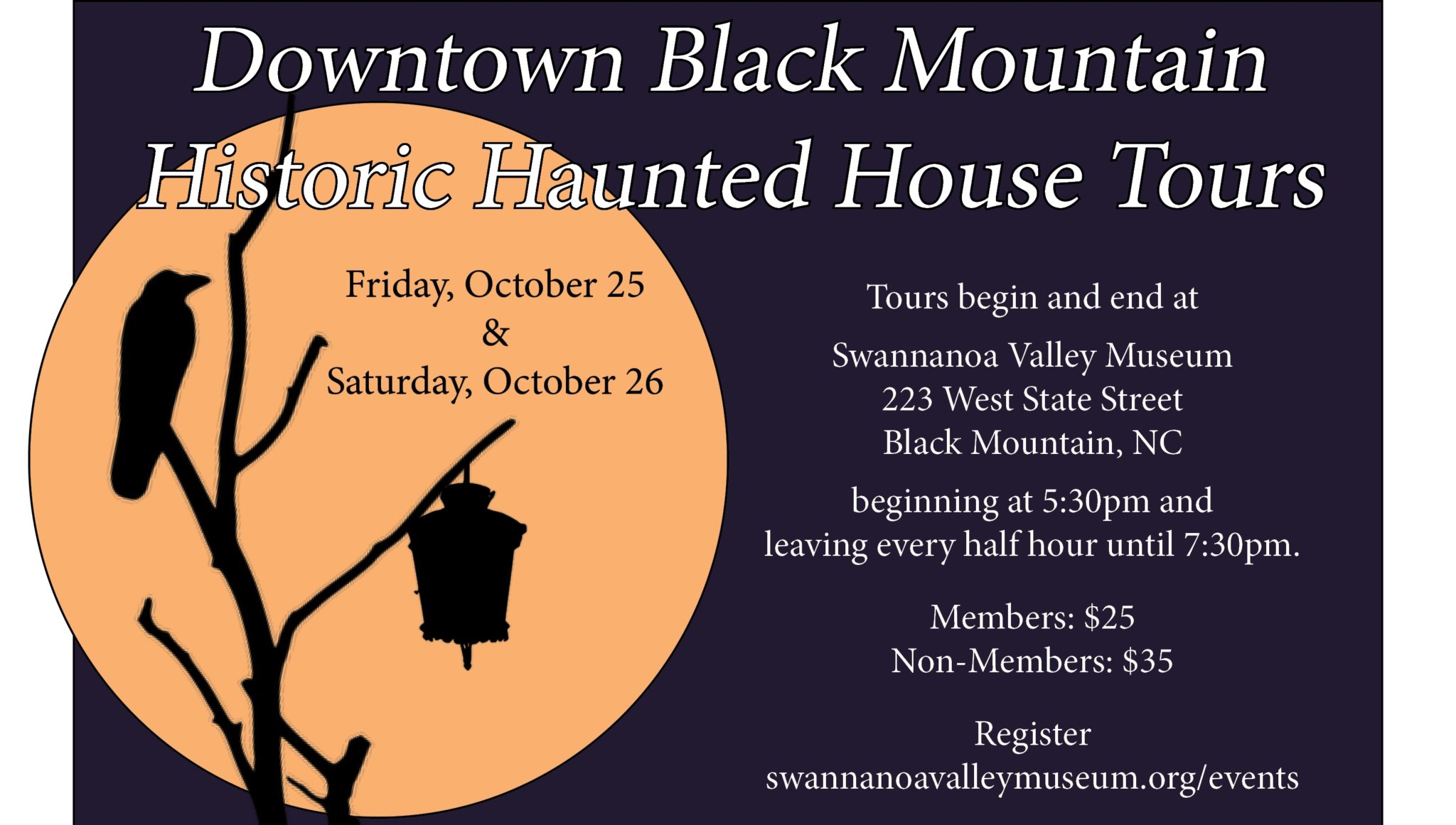 ​This year, ​our annual Historic Haunted House Tour will take guests back in time to discover the ghostly, spooky, and fun parts of downtown Black Mountain's history. ​Participants will enjoy snacks and drinks in several lavishly-decorated historic buildings around town as costumed guides explain Black Mountain's haunted history. ​​
Tours last two hours and leave the Museum on the half hour beginning at 5:30PM on Friday, October 25 and Saturday, October 26. The last tour leaves at 7:30pm both evenings. Advance registration is recommended as there is limited space on each tour.
Tour Times:  5:30PM, 6:00PM, 6:30PM, 7:00PM, 7:30PM
Distance: less than 1 mile on sidewalks
Approximate Tour Time: 2 hours
Ticket Price Includes: Drinks, snacks, live music, and FUN!
Please arrive at least 15 minutes before your tour is scheduled to depart. 
About the Tour
Walking through Black Mountain's downtown historic district can feel like a trip back in time. Most of the brick facades, which came in vogue after a major fire destroyed many of the town's wooden structures in 1912, are the same as they were 100 years ago. Though the people that inhabit the structures have changed, their stories–and sometimes their spirits–remain.
Many of these spirits will reveal themselves on Friday, October 25 and Saturday, October 26, when the Swannanoa Valley Museum & History Center hosts their annual Historic Haunted House Tour in downtown Black Mountain.
The two-hour tours begin at Black Mountain's historic fire house at 223 West State Street, which is now home to the Museum. Led by costumed guides, the tours leave every half hour from 5:30pm until 7:30pm on both nights.
After departing from the Museum, the tour will venture across the railroad tracks to Black Mountain Avenue, home to some of the oldest structures in downtown Black Mountain. Participants will wind through what at one time was a morgue operated by James W. McKoy, but now is Design Driven Studio. The one-story structure was originally built c1880 using blasted rock pulled from the Swannanoa Tunnel, rock that was ultimately responsible for the deaths of many convicts forced to construct the steep railroad grade up the mountain from Old Fort into Black Mountain.
Next on the tour, just across the street, is the McKoy Building, now known as The Junction. Built around 1890 by James W. McKoy, the two-story brick building has hosted tourists as a boarding house, catered to locals as a grocery and dry goods store, housed Black Mountain's first town hall, and sheltered patients infected with influenza during the 1918 epidemic. Bodies of those who passed away from influenza were moved across the street into McKoy's undertaking business.
In 1907, the building made the front page of newspapers across North Carolina when its second-floor balcony collapsed and crashed to the sidewalk below, shattering the "loafer's bench" beneath it and badly injuring the four local  young people who fell with it. James McKoy's father, seated on the sidewalk in a wheelchair, narrowly missed being crushed.
The tour continues from Black Mountain Avenue to make stops at Sassafrass on Sutton, Town Hardware and General Store, Tyson Furniture, Krista Anne's Boutique, and ends at the Veranda Cafe. All businesses are generously opening their doors for this major Museum fundraiser. 
Guests will hear stories of the men and women that died building the railroad into Black Mountain; the summer people who descended upon the town in droves to escape the heat and insects further south; the fire of 1912 that ravaged Sutton Avenue; the local dentist who pulled Elvis' tooth; the juke joint that provided entertainment for African-American residents and visitors during segregation; and the goat man and his wife that came to town with dozens of goats and a message of repentance.
The tour's cast includes historical presenters at each stop as well as performers dressed in period costumes. On the tour, guests will be treated to live music and refreshments.