Book Club Webinar: Living Stories of the Cherokee
May 11, 2020 @ 11:30 am

-

12:30 pm

Free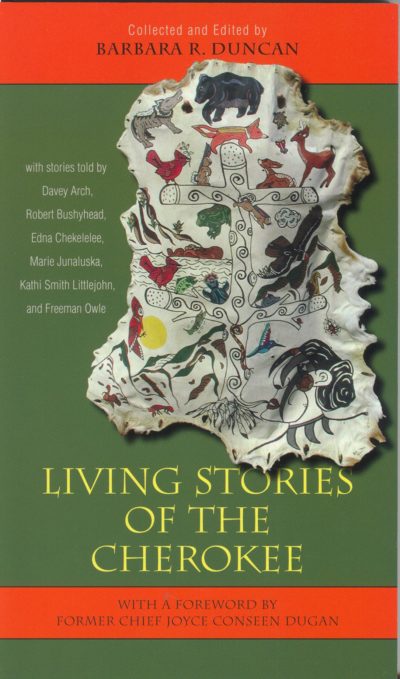 Join us Monday, May 11th for our webinar Book Club discussion of Living Stories of the Cherokee, edited by Barbara Duncan. The museum will be hosting this event via Zoom video conference (free, and no account needed).
Support our local businesses! Physical copies of the book can be ordered through Black Mountain book store Sassafras-on-Sutton. 
Ebook versions of Living Stories of the Cherokee are available on Amazon and can be purchased here.
To attend, RSVP below.  The museum will send instructions ahead of time to help attendees utilize the Zoom application. A few days before the event, registrants will receive the link to the Zoom event.
From the publisher: This remarkable book, the first major new collection of Cherokee stories published in nearly a hundred years, presents seventy-two traditional and contemporary tales from the Eastern Band of Cherokee Indians in North Carolina. It features stories told by Davey Arch, Robert Bushyhead, Edna Chekelelee, Marie Junaluska, Kathi Smith Littlejohn, and Freeman Owle–six Cherokee storytellers who learned their art and their stories from family and community. The tales gathered here include animal stories, creation myths, legends, and ghost stories as well as family tales and stories about such events in Cherokee history as the Trail of Tears. Taken together, they demonstrate that storytelling is a living, vital tradition. As new stories are added and old stories are changed or forgotten, Cherokee storytelling grows and evolves. In an introductory essay, Barbara Duncan writes about the Cherokee storytelling tradition and explains the "oral poetics" style in which the stories are presented. This format effectively conveys the rhythmic, oral quality of the living storytelling tradition, allowing the reader to "hear" the voice of the storyteller.
Tickets are not available as this event has passed.