Book Club: Divine Right's Trip
November 8, 2019 @ 11:30 am

-

12:30 pm

Free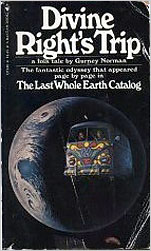 November's read is Divine Right's Trip by Gurney Norman. From the NY Times: Gurney Norman's "Divine Right's Trip" — a hippie, druggie road-trip-novel-cum-lifestyle-manifesto — first appeared "episodically" as a series of sidebars on right-hand pages of Stewart Brand's 1971 "Last Whole Earth Catalog."
The story follows the young drug slinger D. R. Davenport (Divine Right) and his girlfriend, Estelle, as they roll across the country. The introduction is written from the perspective of their 1963 Volkswagen microbus, Urge. There is an ecological message. There is some product placement. It's kind of great, if you groove on Richard Brautigan and can dig a vermiculture subplot.
A stand-alone edition of the novel won high praise in the Book Review ("stands a good chance of being the book for a generation, in the way that 'On the Road' and 'Catcher in the Rye' were for what are now old folks"). And while that never came to pass, you can bet a lot of old folks have at least a fuzzy recollection of the odd (and oddly presented) original. "The Last Whole Earth Catalog" sold a million copies, sat on our best-seller lists for over a year in various editions and won the 1972 National Book Award. So while you can buy a new copy of a 1990 reissue of "Divine Right's Trip" on Amazon, it might be truer to its spirit to browse it free in situ in its wacky original form in the Whole Earth Catalog.
Tickets are not available as this event has passed.