Swannanoa Valley Rim Hike #3: Cherokee Boundary
February 12 @ 8:00 am

-

2:30 pm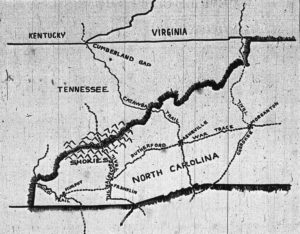 The Cherokee Boundary was the eastern most boundary of the Cherokee Nation. The hike will begin at Wendell's house and cover the Eastern Continental Divide to near Swannanoa Gap. Almost all of the 4.5 mile trip (many ups and downs) will be off trail or bushwhacking. There will be many unique and spectacular views (360 degrees through the trees) of the upper Swannanoa Valley, Black Mountain Range, and Great Craggy Range. Hikers will see the most remote sections of the Catawba River's headwaters. Much of the boundary will follow the southeastern border of Black Mountain's 465-acre watershed. The elevations will average between 2,600' and 3,600'. We will cross several of the initial bridle trails and wagon routes that the first pioneers cut-out as they made their way over the Divide and into the Swannanoa Valley (late 1700s). Even though this part of the Swannanoa Rim is closest to Black Mountain, it is one of the wildest and least visited. 
Difficulty:  Difficult, 4.5 miles
Note: This hike is part of a series, which goes on sale January 3, 2022. Learn more here. 
Updated Coronavirus Protocol:
Due to the very high percentage of fully vaccinated people on our hikes, in 2022 we will be returning to our customary hike route and transportation plans. We will be doing one-way hikes that will require a short carpool/driver shuttle system. People in the shuttle cars should mask up and leave some windows open. **If you are uncomfortable with these arrangements, please let the hike committee know at svmhikes@gmail.com and your credits will be reserved for future hikes.**'
We will observe the following hiking procedures due to COVID:
Please bring a mask to the event to use during carpooling.

No one who is sick, running a fever or potentially exposed to COVID should attend

If not vaccinated, masks should be worn in all group settings like sign-in

and congregation




times.

Social distancing while on the trails is recommended