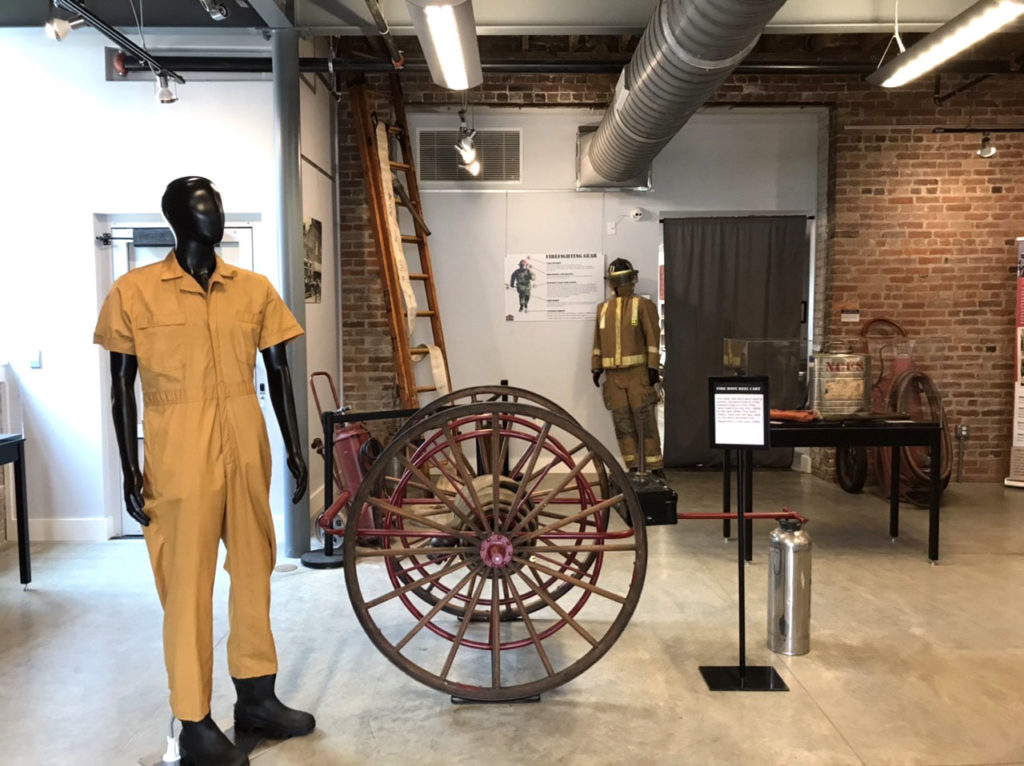 On display from July 9th – December 31st, 2021
The Black Mountain Firehouse, constructed in 1921 on W. State Street, housed Black Mountain's first volunteer fire department for 63 years before the department moved to its current location on Montreat Road. The exhibit features artifacts from the museum's archives as well as the Black Mountain Fire Department (BMFD), including 1920s to 1930s-era ladders, hose reel carts, fire extinguishers, ledgers, helmets and more. Banners and historic photos of the department help to tell the story of the organization's early history- including its founding after a devastating fire, its move into the State Street firehouse, efforts to train local citizens in fire safety, and raising funds through period entertainment such as mock trials and womanless weddings.
The story of Black Mountain's Fire Department begins with a devastating fire that took place on the night of November 25th, 1912. A blaze that began at a livery stable swept through downtown Black Mountain, destroying several structures on Sutton Avenue and Cherry Street, including the Southern train depot. Citizen bucket brigades battled the fire until a fire truck and crew from Asheville arrived by railway. This fire motivated the town's citizens to develop a volunteer fire department.
Left: A view of the devastation caused on Sutton Street after the November 25th fire.
By 1919, the Black Mountain Fire Department (BMFD) was officially organized, housed in a building on the northwest corner of Broadway and Sutton Avenues. However, the department recognized a need for a more adequate space, and after many fundraising efforts, it was able to purchase property on State Street and begin construction on a new firehouse. The new building was designed by famed architect Richard Sharp Smith, a partner at the architect firm Smith & Carrier, who also served as the supervising architect of the Biltmore House and other buildings on George Vanderbilt's estate. The firehouse was opened in May of 1922, and given the name "Currier Hall" in honor of R.E. Currier, the department's first fire chief.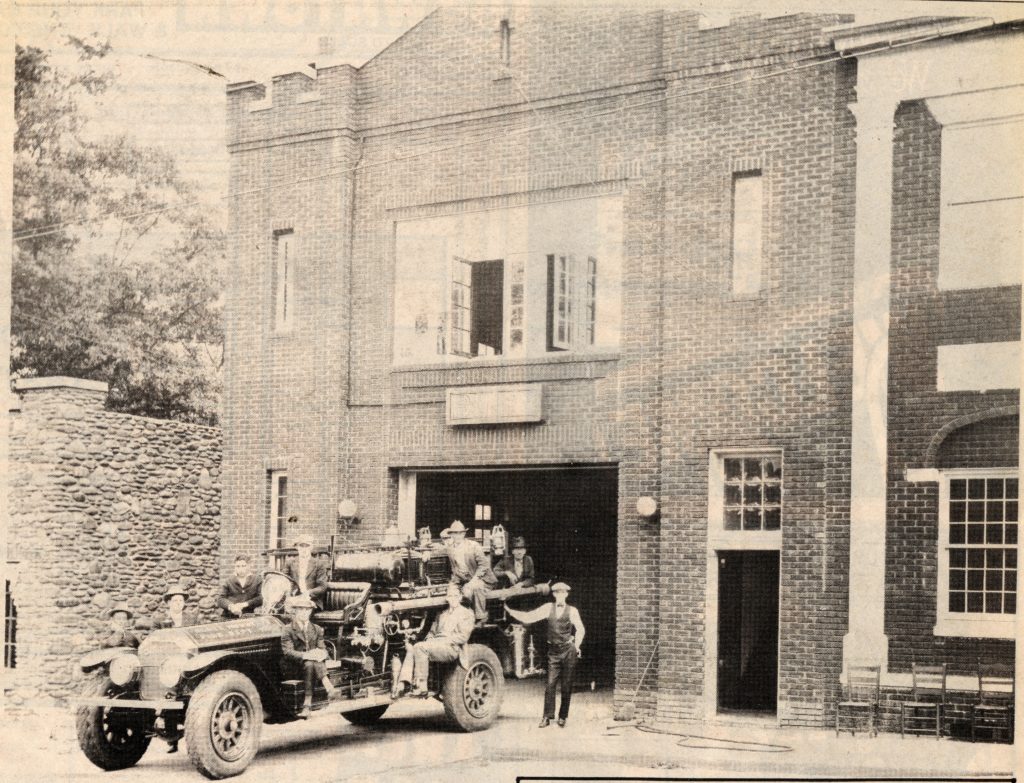 As an all-volunteer department in its early years, members, as well as a supportive women's auxiliary, made constant efforts to raise funds for new gear and training. The department hosted many forms of entertainment that were popular during the time period, including womanless beauty pageants, tom thumb weddings and even blackface minstrel shows. The department also hosted mock trials, in which the public paid to view theatrical scenes of court proceedings in which department members were tried for making and selling moonshine. The department also spent time educating the public about fire safety and prevention, encouraging local business and households to clear away debris that could act as a fire hazard, and conducting safety training at local schools.
The department was housed at its State Street location until 1984, when it moved to a new location near the town center. In 1989 the building was turned over to the Swannanoa Valley Museum & History Center, which has made renovation efforts to honor the building's history, including installing newly-furnished fire truck doors in 2016. Today, the BMFD continues to provide many of the same vital services that it has for the past century, including firefighting, emergency medical response, educating the public on fire prevention and more.
IN THE NEWS: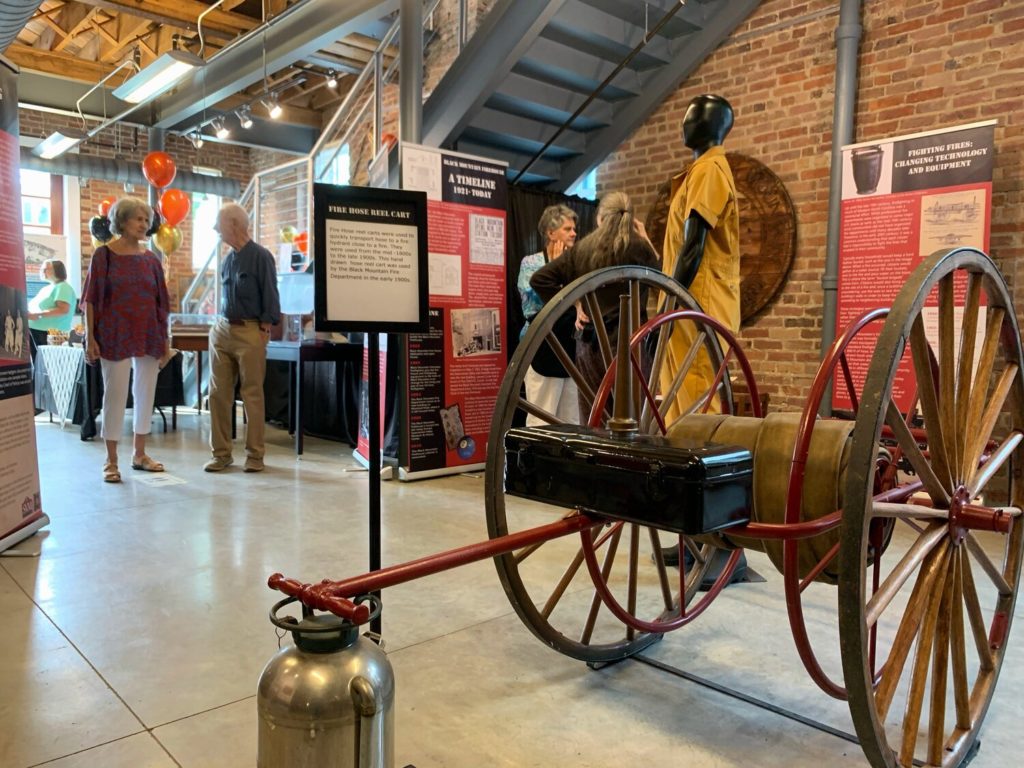 A Century of Service for the Black Mountain Firehouse: Swannanoa Valley Museum and History Center Opens Exhibit Dedicated to Historic Building, by Fred McCormick, Valley Echo