2018 Event Calendar
Upcoming events are listed chronologically. Registration for each event is listed directly after the event.

---
Tuesday, January 9, 2018


Hike Interest Meeting at Swannanoa Valley Museum
Learn about the Swannanoa Rim Hike Series during this free informational meeting. The meeting will provide an introduction to the program offerings, details about the individual hikes, advice for hikers, and information about our scholarships. The  Swannanoa Rim Explorer Hiking Series consists of 11 hikes that take place each month over the course of a year and will navigate the entirety of the 31-mile rim of the Swannanoa Valley. We will briefly overview our Valley History Explorer (VHE) Hiking Series*, which offers the opportunity to revisit the past of the unique communities that make up the Swannanoa Valley through 8 moderate hikes. 
Meet: Swannanoa Valley Museum, 223 W. State Street, Black Mountain, NC 28711
Time: 6:30PM
Cost: Free to attend
*For more in depth information on the VHE series please attend our interest meeting on February 27.
Register to attend the FREE Interest Meeting by clicking below.

---
Saturday, November 17, 2018
Swannanoa Valley Hike Finishers Celebration & Hiker Reunion
Tonight we're celebrating all those who finished the Rim Hike and Valley History Explorer Hike Series in 2018. All 2018 Hike Series finishers will receive their Rim Hike jackets and fleeces this evening. All past and present finishers and their families are welcome. We will provide dinner (pizza, salad, dessert) and non-alcoholic beverages.
Meet: Lakeview Center, Lake Tomahawk, 401 Laurel Cir Dr, Black Mountain, NC 28711
Time: 5:00 PM – 7:00 PM
Cost: Free for all 2017 finishers, $10 suggested donation for all others
---
Friday, November 30, 2018
Holly Jolly
Join us tonight for Holly Jolly. Our exhibits will be open for the last time this year and we'll have a holiday-themed craft for kids.
Time: 5:00 PM – 8:00 PM
Cost: Free
---
Saturday, December 1, 2018
Museum Closes for the Season
Visit the Museum on the last day we'll be open in 2018 and see our exhibits before they are replaced in 2019.
Open: 10:00am – 5:00pm
---
Friday, December 14, 2018
SVM Book Club: Bloodroot: Reflections on Time and Place, edited by Joyce Dyer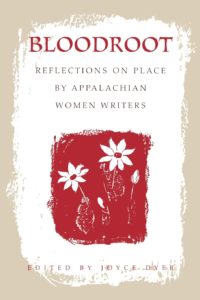 December's read is Bloodroot: Reflections on Time and Place by Appalachian WomenWriters edited by Joyce Dyer. Kirkus reviews said, "A broad sampling of deeply impressive writings–essays, memoirs, poetry, letters, stories by women from the Southern Highlands. If the word Appalachia conjures little more for you than mining disasters and Walker Evans photos, turn these pages and discover the remarkable storytelling tradition that flourished there, and thrives still. Every one of these 35 pieces goes down smooth as a glass of Georgia peach, even when it bites. A few of the names of the contributors will be familiar Nikki Giovanni and Gail Godwin, Jayne Anne Phillips, whose offering is a terrific out-of-time remembrance of her hometown, circa 1962, but most of the women here (all were born in the 20th century) have toiled long and hard, often in obscurity, their love of words keeping the storytelling art alive and high art it is."

Meet: Swannanoa Valley Museum, 223 West State Street, Black Mountain, NC 28711
Time: 11:30 AM – 12:30 PM
Cost: Free; Join other history and literature enthusiasts as you discuss themes, opinions and more!